AMS Wireless Vibration Monitor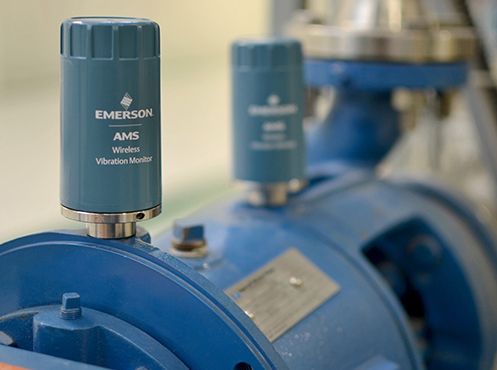 The AMS Wireless Vibration Monitor delivers full vibration data over a self-organising wireless mesh network providing rich information for both operations and maintenance personnel. Overall vibration, PeakVue™ measurements and temperature readings can be easily integrated into any control system or plant historian, while diagnostic data can be displayed in asset management software.
This device extends vibration monitoring to a wide range of new applications. While appropriate for most vibration monitoring tasks, it is especially well suited for hard-to-reach locations such as cooling towers, pumping stations, remote equipment, and hazardous area equipment. It is also an excellent alternative to any application that might otherwise involve extensive engineering, cabling, or installation costs.
Ideal for deployment across your plant or enterprise, the AMS Wireless Vibration Monitor offers the following benefits:
Automated machine monitoring with a lower total cost of ownership.
Simple installation in about 5 minutes.
Fleet management tools for fast configuration in the shop or in the field.
Prescriptive analytics using patented PeakVue™ Plus to accelerate your diagnosis.
Reduced time in the field - more time to recommend maintenance actions.
Rapid ROI with lower installed cost and fast access to actionable information.
Long 3–5 year life with an off-the-shelf battery collecting up to 4 waveforms per day.
Battery replacement in the field – even in hazardous areas.
Access asset health information on your mobile phone anytime, anywhere.
Visit booth M60 for a demonstration.