29 Sep 2020
Spectro Scientific: Oil Condition Monitoring Sectors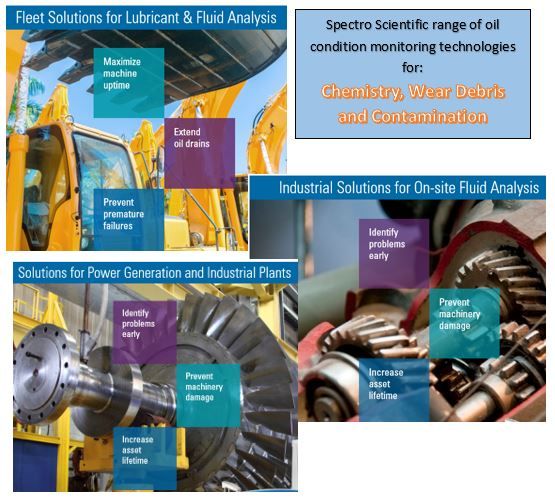 SciMed Ltd privide extensive sales, service and support forthe Spectro Scientific Products. With over a decade of working with Spectro Scientific, SciMed can provide a total solution package for industries, wheather they are Formula 1 racers, Defence (MOD) or industrial manufactiring sites.
Oil Codition Monitoring is the most cost effective and fastest method of providing predictive maintenance of your machine assets.
Operation can be witth remote handheld instrument tools or benchtop mounted units. All instruments are designed with engineers in mind. Undesrstanding the operation and outputs is simple and feeds directly into maintenance operations.
Since the reliable operation of high value, fixed assets is critical to all industrial plants, predictive maintenance programs are implemented to manage machinery uptime. In-service oil analysis is a key machine condition monitoring technique for Condition Based Maintenance (CBM) and Reliability programs. It complements vibration analysis, thermography and other predictive maintenance technologies. In the time it takes external laboratories to return oil sample results, machinery condition can change significantly. On-site oil analysis eliminates this wait and enables immediate decision making. Corrosion and wear cause surface degradation of the lubricated surfaces in machinery and are the root causes of most mechanically-induced equipment downtime. Corrosion is caused by water or other fluids reacting with metal surfaces, while wear is caused by surface abrasion, adhesion and fatigue. Oil analysis provides early indications of equipment wear and identifies the root causes of corrosion.
As part of a proactive maintenance program, on-site oil analysis delivers rapid results with immediate decision making to:
Lower operating costs
Reduce unscheduled downtime
Increase machine availability
Extend equipment life
Decrease total lifecycle equipment costs
Provide immediate retest capability
Trivector™ – oil and machine health simplified
The TriVector™ is a simple representation of the integrity of the lubrication system and the health of the machine itself. The Trivector indicates the degree of health in each vector. Each vector is a representation of Alarm Limits based on underlying parameters, such as viscosity, water contamination, acid number, oxidation, total ferrous, particle count and ISO code, large ferrous particle count, etc.
Visit SciMed on Booth M80 to view a range of instruments and discuss your Oil Condition Monitoring needs as part of your CBM and reliability program with the experts.
www.scimed.co.uk/product-category/oil-condition-monitoring/